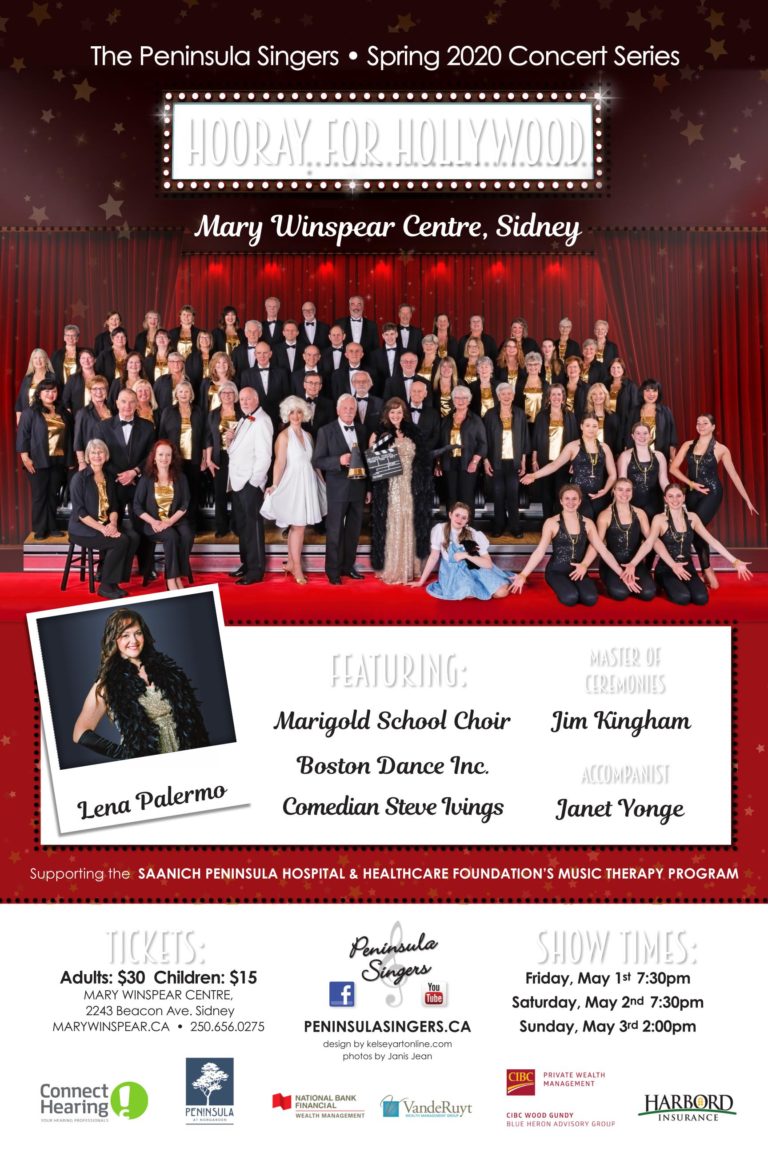 2020 Spring Benefit Concert Series:
'Hooray for Hollywood'
Artistic Director Lena Palermo has chosen the most popular songs from the Golden Age of Hollywood through today's blockbusters. You'll hear classics like Henry Mancini's Academy Awarding-winning 'Moon River', Irving Berlin's 'Cheek to Cheek', 'The Way You Look Tonight', 'Mona Lisa', and the chomping suspense music from the movie Jaws. Feel the beat from the '80s hit 'Flashdance', Kenny Logan's 'Footloose' and the Bee Gees 'Night Fever'. Rejoice and clap your hands to 'Joyful, Joyful' from Sister Act 2, then catch your breath with Judy Garland's signature ballad, 'Somewhere Over the Rainbow'.  James Bond's iconic and legendary soundtracks like Goldfinger, Live and Let Die and Diamonds are Forever will leave you shaken and stirred. Enjoy the recent award-winning music from the musical drama The Greatest Showman along with many more of Hollywood's legendary movie music.
The Spotlight On A Young Artist will feature renditions of movie tunes by the École Marigold Elementary School Choir as well as incredible dance performances to movie chart-toppers by Victoria's own, Boston Dance Inc. Master of Ceremonies, Jim Kingham, ties the show together seamlessly with engaging narration and family humour. The show's professional instrument ensemble adds rich, powerful harmonies and upbeat sounds with accompanist, Janet Yonge; percussionist, Terry Erskine; and violinist, Margaret Dzbik and other talented guest musicians.
Special guest, comic/impressionist, Steve Ivings, adds a further touch of Hollywood with spot-on impressions of Jimmy Stewart, Clark Gable, Sean Connery, Michael Caine and so many more.
You know the movies, you know the music and the Peninsula Singers know it's a show your whole family won't want to miss! Let us entertain you!
Supporting the Peninsula Hospital & Healthcare Foundation's Music Therapy Program and the Saanich Peninsula Lion's Food Bank.
Friday, May 1, 2020 – 7:30 pm
Saturday, May 2, 2020 – 7:30 pm
Sunday, May 3, 2020 – 2:00 pm
Mary Winspear Centre
2243 Beacon Ave W, Sidney, BC V8L 1W9
Artistic Director: Lena Palermo | Accompanist: Janet Yonge
Supporting the Peninsula Hospital & Healthcare Foundation's Music Therapy Program and the Sidney Lion's Food Bank.
 Tickets:250-656-0275
ADULTS:  $30
CHILDREN: $15