Jim Kingham – Master of Ceremonies
Jim has been involved in the performing arts since his youth, as a singer, public speaker, actor and instrumentalist.  He sang with the Lysenko Chorale of Toronto and the Victoria Village Squires and has played with groups ranging from small ensemble to full orchestra.  Jim now plays with the saxophone quintet, Saxophoria, (a.k.a. Santa Saxes, at Christmastime), with the Sidney Concert Band and a small jazz ensemble. As the dapper M.C. for the Peninsula Singers, he's done more than simply introduce the songs–he's become an integral part of each performance.  Jim has been called upon to play his sax and clarinet, he's done a little singing and has even played the role of pub owner, radio disc jockey and cruise director, all with a nice touch of humour. Jim concludes: "This is the most enthusiastic group of performers I have ever had the pleasure to work with."
Janet Yonge – Piano – Accompanist
Janet Yonge has been a piano teacher and accompanist in the Victoria area for over thirty years. She graduated from the University of Victoria with a major in piano and studied piano pedagogy at the Victoria Conservatory of Music. She has a busy teaching studio and has accompanied a variety of choirs and soloists. Janet had the pleasure of accompanying the Victoria Broadway Chorus under the direction of Bob Leblanc, and is currently the accompanist for the Greater Victoria Police Chorus. Janet's other musical interests and training includes flute and organ, and for recreation she is a distance walker and dancer. Janet is thoroughly enjoying working with the vibrant Peninsula Singers.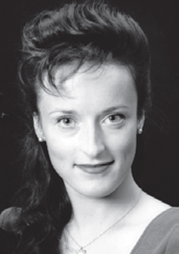 Margaret Dzbik – Violinist – Musician
The Peninsula Singers are delighted that Margaret Dzbik is returning to our show band as a guest musician. Originally from Poland, she is a graduate of the University of Victoria. A violin teacher and a professional violinist for over 20 years, including seven years with the Victoria Symphony, she is also trained in choral, strings and band conducting. Margaret was a Sessional Instructor at the University of Victoria and has been teaching in elementary, middle and secondary schools in District 61. Margaret is also a busy mother of 2 daughters, and she enjoys hiking, reading, and travelling. 
Terry Erksine – Percussion – Musician
Our "Prince of Percussion" has been playing with the Singers since Christmas of 2007. In that time he has created an amazing array of sounds that have added a rich background to every performance, such as thunder, the sound of a water fall, a variety of bells and the mighty chime from bell towers. "I love playing with the Peninsula Singers because it gives me an opportunity to branch out from the usual and create rhythm and sound that compliment the chorus," he says. Terry lends his expertise to several other local bands including the Sidney Concert Band,  The Organics Jazz Trio, and the 16 piece Bayside Big Ban. In addition he is part of the music team at St. John's United Church in North Saanich. In the spring of 2017 he and the Sidney Concert Band traveled to Cuba, performing in five concerts in the eastern part of the country. While there, Terry studied Latin Percussion and played jointly with some very fine Cuban musicians. 
Murray Rutherford – Bassist
The Peninsula Singers are pleased to welcome bassist Murray Rutherford to our Show Band. Growing up in Vancouver, Murray learned to play bass guitar in high school and played in some garage rock bands. During his university years, Murray played with his fathers' big band in Vancouver. A few years ago, he switched to playing the double bass appreciating its resonance and depth. Murray also performs with a small jazz combo at the Victoria Conservatory of Music.